The Query Wizard - Add Multiple Subjects to Query screen lets build more complicated Queries by combining multiple Subjects within a Query. You can also use multiple subject queries to create sub reports in the DataPA report designer.
The base Subject of the Query you have been building is displayed in the top left corner of the treeview. If you do not wish to create a Multiple Subject Query simply click on 'Next >' to go to the Query Wizard - Finished screen.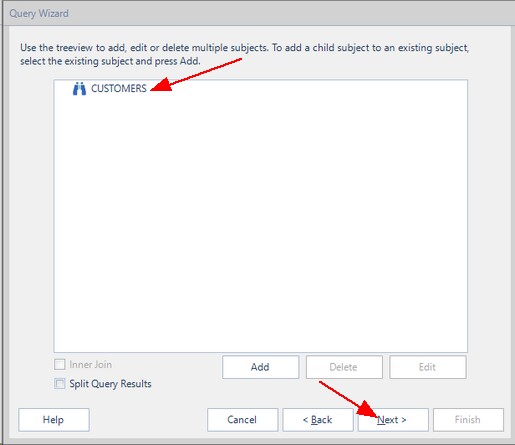 To Add a child Subject to an existing Subject, click on the existing subject to select it and then click on the 'Add' button. The Query Wizard will go through the necessary screens so that you can Select a Subject, Define Filter Conditions, Select Fields and define Sort Criteria for the additional Subject's Query as you did for the initial part of the Query.
The only difference in the process is in the defining of the Filter Conditions where the Query Condition form requires the parent and the child Subjects to be related to each other. For details see Query Condition - 2 Subjects. Once you have added the child subjects they will be displayed in the treeview.